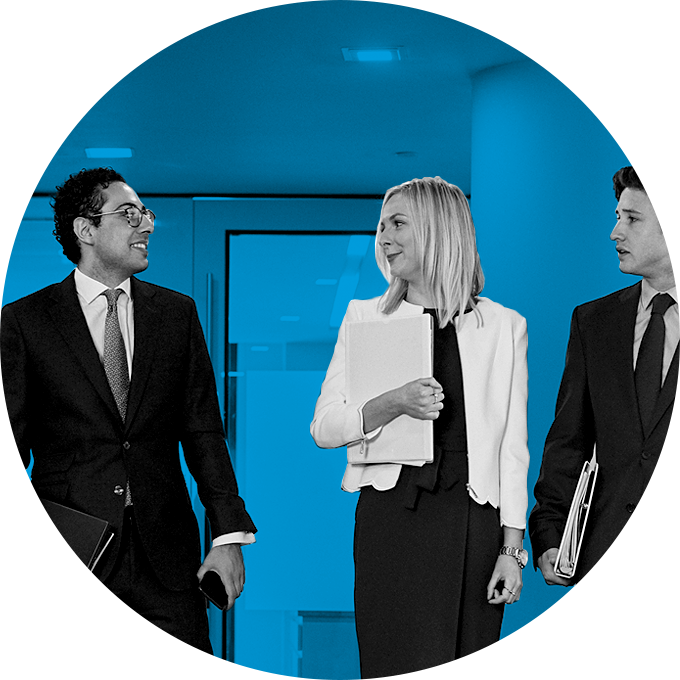 About London
We focus on developing a deep understanding of our clients' businesses and the sectors in which they operate. We provide targeted legal advice quickly and efficiently to meet our clients' business and personal needs.
Our London office boasts some of the City's leading lawyers. The challenging and exciting nature of our work enables us to attract some of the brightest talent in the legal profession, across a range of specialist areas.
Our clients benefit from this great strength in depth because we can deploy the right people with the right level of expertise at the right time.
"I was attracted to Stephenson Harwood because of the high calibre of work that the firm is involved in and by the small intake of trainees which means you are afforded a higher level of responsibility from day one."
Manon Sel, trainee solicitor
Major practices
Commercial litigation
Our commercial litigation team has a long track record of advising clients on their most challenging disputes and we've acted on many of the largest, bet-the-company cases. Clients span every major industry and sector, ranging from multinational corporations, financial institutions, large and medium sized companies, professionals and trustees, to governments, charities, and high net worth individuals and their corporate interests. We represent clients in High Court litigation, international and domestic arbitration, manage proceedings in other jurisdictions, and co-ordinate proceedings across multiple jurisdictions.
Corporate
Our award-winning corporate team provide a range of expertise, including public and private mergers and acquisitions, joint ventures, investment funds, equity capital markets, corporate governance, private equity, venture capital, commercial, competition and tax. Comprising dedicated and pragmatic individuals, our corporate team has an international client base across a variety of sectors, with particular focus on life sciences, corporate real estate, financial and professional services, insurance, healthcare, transport, decarbonisation and technology.
Employment, pensions and private wealth
Our multidisciplinary employment, pensions and private wealth team advises on both litigation and advisory matters. We work closely with our specialist experts and our international offices to provide a breadth and depth of expertise in all areas of employment, pensions and private wealth. Our employment team handles the full range of contentious and non-contentious, transactional and advisory employment work, and is a market leader in restrictive covenants and employee competition. Our pensions group advises on a variety of matters – ranging from advice on day-to-day legal issues to documentation, corporate transactions, investment, member disputes and litigation. Our private wealth team is renowned for giving no-nonsense practical advice on complex tax, contentious and non-contentious private wealth issues in an agile and responsive way. We act for ultra-high net worth individuals and family offices internationally, predominantly for entrepreneurial wealth generators. We're best known for advising on some of the most complicated, sought after work in the market, with a focus on international, cross-border work.
Finance
Our award winning finance team is highly regarded for its excellence, broad experience and versatility. We work on demanding and innovative deals globally acting for many leading UK and international banks and financiers, investment companies, corporates, lessors, funds and other stakeholders on challenging transactions, which often involve novel instruments or structures. Our team's expertise covers a broad range of assets including ship and offshore assets, aircraft, rolling stock, machinery and equipment, infrastructure projects, oil and gas projects, real estate and renewables. Our team is particularly known for its work advising on real estate finance, but also boasts market leading practices specialising in leveraged and acquisition finance, trade finance, Islamic finance, leasing and restructuring.
Marine and international trade
Our international practice is serviced by specialist lawyers based in key shipping and trade hubs worldwide. We're well positioned to advise on any shipping or trade-related concern, from the most complex marine incident or financing structure to the more straightforward sale and purchase dispute or cargo claim. We've acted on some of the most high-profile and important cases in the maritime industry for some of the world's largest ship owners, ships yards, ship finance banks, marine insurers, P&I clubs, offshore services companies, and commodity traders.
Real estate and projects
This combined team advise across the spectrum of infrastructure and real estate project development and financing, providing full lifecycle support. This includes investment acquisition and disposals, financings development projects, sale and leasebacks, disputes, tax, as well as ongoing property and asset management matters. Our real estate and projects team support virtually every sector including transport, energy particularly in renewables, and all real estate asset classes and clients include the spectrum of public and private sector participants, including major institutional investors and financiers, developers, fund managers, hotel groups, public sector bodies and corporates operating in the space.
Working to create a better world
We know we have a responsibility to use our combined experience and global reach to have a positive impact within our communities. This includes everything from our commitment to creating a diverse and inclusive working environment to offering our expertise pro bono, being aware of our environmental impact to giving back through fundraising and charity work.
Belonging, inclusion and diversity
At Stephenson Harwood, we want all our people to feel they can be themselves and thrive at work.
We want you to do your best work in a team that values who you are and the unique perspectives and contributions that you bring. That's how we unlock our entrepreneurial spirit.
Our strategy on belonging, inclusion and diversity focuses on every element of culture, leadership, talent management and recruitment, which is why we work with a range of organisations including Stonewall, The Business Disability Forum, The Valuable 500, Aspiring Solicitors, Rare Recruitment, MyPlus Recruitment, Working Families and many more.
Our employee networks are for, and run by, our people. They create a sense of belonging by celebrating diversity, connecting people across the business, and working with the community. Whatever your role, you can contribute to fostering our inclusive culture by joining our employee networks: Enable (disability and neurodiversity), gender equality, mental health and wellbeing, SHARED (race and ethnicity), Shout (LGBTQ+) and social mobility.
Starting early
Our commitment to diversity starts with young people, often long before individuals would come to work for us. We want to widen access to the legal profession, ensuring that young people who don't have the resources, or personal connections in the legal sector, have access to our office and our people.
We partner with Whizz Kidz to provide work experience to young wheelchair users.
We're also founding members of the Aspiring Solicitors Foundation, an organisation focused on removing financial hardship for students to support them to pursue a career in law.
Our scholarship programme, open to students from lower socio-economic backgrounds, offers £15,000 per year to cover the costs of university fees and contribute to living expenses, Recipients will also have a mentor from the firm, and will be invited to our insight days, work experience, and are guaranteed a place at an assessment centre for a training contract.
We partner with The Stephen James Partnership and the Aleto Foundation to support the Black Lawyers Matter Mentoring Programme. Our people act as mentors to aspiring Black lawyers and legal professionals looking for personalised career support.
We provide a Black Talent programme, in partnership with Aspiring Solicitors, an initiative designed to kick-start the legal careers of Black students through providing mentors, skills development workshops, designated placement opportunities and guaranteed places on an assessment centre for a training contract.
We partner with Breaking Barriers, a UK charity that helps refugees rebuild their lives through education, training, and employment. Breaking Barriers' mission is to help refugees in London acquire the knowledge, confidence and experience to get stable, fulfilling employment. We run employability skills workshops, and interview skill preparation, and volunteers from Stephenson Harwood share their skills and experiences of the legal sector and the working world in the UK.
Wellbeing
For us, belonging, inclusion and diversity and wellbeing are interconnected. Creating an inclusive firm has positive benefits on our people's overall wellbeing and mental health at work. Our wellbeing programme is global and for all of our people, including partners.
We partner with HelloSelf to provide access to a dedicated clinical psychologist for all of our people globally,
Many of our global policies focus on wellbeing and inclusion, supporting our people to get the support they need through challenges they may experience in their personal lives.
Examples of inclusive policies that support wellbeing include:
Career break/sabbatical policy
Domestic abuse policy
Fertility policy
Carers policy
Menopause policy
Pregnancy loss policy
Transitioning at work policy
Workplace adjustments policy
Using our legal skills pro bono
Our lawyers use their skills to give free legal advice, research or representation for social, community, humanitarian or environmental causes.
The London office partners with LawWorks to provide legal advice to those who are not eligible for legal aid and cannot afford to pay.
Our litigation team in London works with the Royal Courts of Justice Advice Bureau to offer free legal advice to those who cannot afford a solicitor.
In Paris, our lawyers are working with Plastic Odyssey to develop a three-year marine expedition to develop new local solutions to reduce plastic waste in emerging countries. Lawyers in Hong Kong, and their migrant mothers to work towards safe, legal and sustainable futures.
Focused fundraising
Since 2011, we have selected a Charity of the Year, which allows us to focus much of our fundraising activities on a specific cause that our people care about.
Employees nominate and vote for our charity of the year. Our current charity of the year is Crisis UK, a national charity for people experiencing homelessness. Crisis campaigns for the policy changes needed to end homelessness, partner with local authorities, and support individuals to leave homelessness behind. Crisis also provides specific help to each individual such as finding a new home and settling in, getting new skills and finding a job, or help with their health and wellbeing.​
To support our charity of the year, we combine fundraising with fun, wellbeing and social activities, often discovering new skills in the process! From bake off challenges, volunteering at charity warehouses, races, to quizzes and much more.
Doing our bit for the planet
We work hard to minimise our impact on the environment. We achieve this by complying with the standards laid down in ISO 14001 and ISO 15001, the international standard for environmental management systems and energy management systems respectively.
As members of the Legal Sustainability Alliance, we collaborative with law firms to improve the environmental sustainability of our operations and activities.
In 2020, our London office achieved carbon neutral status, offsetting the unavoidable carbon emissions which result from our operations. To offset the emissions, we're contributing to a community reforestation project in East Africa, through a carbon credits programme.
Events
To get a better idea of what life is like at our firm, come along to one of our upcoming events.
18 Oct 2022
Law fair
University of Cambridge
22 Oct 2022
Law fair
University of Oxford
24 Oct 2022
Law fair
University College London
16 Nov 2022
Law fair
University of Southampton
17 Nov 2022
Law fair
University of Exeter
23 Nov 2022
Virtual Open Day
Online
7 Dec 2022
Virtual Open Day
Online